If you fell in love with a beautiful slab, pair it up with a beautiful Splashback For Marble Kitchen Bench Tops that will not only compliment your investment but will make it shine.
Choosing a splashback to compliment your marble kitchen bench top can be overwhelming for home renovators. This is a common challenge with most new home kitchen designs and upgrades so we thought that we would help our customers by providing some examples of beautiful kitchens with Marble Bench Tops. We have created hundreds of printed glass splashbacks that perfectly compliment natural stone and marble bench tops.
Finding a matching splashback for marble kitchen bench tops or granite bench tops can be tricky as there are so many variations in the colors and patterns of natural stone. Some are thin and delicate and others can be dense and busy, some are light and some are dark, some are more natural with lots of negative space throughout, while some are very dotty. It can be difficult matching the same stone as a splash back and often the weight is too much for the floor bearings.
We have created a variety of printed glass splashback for kitchens that have marble or granite bench tops in the space.
"The most important thing to remember is to HAVE FUN!"

Renae, Seein Director
Glass is non-porous and easy to clean, it is reflective and brings light into any space and it keeps the weight lower for the floor. Some samples that we have posted include matching stone, this is where we have taken photos of the stone and printed it onto the glass. We have created subway tiles through a graphics art program (we even managed a 3D effect, they look so real) and then there are the many other images we have created, in various colors, styles, and sizes. Each splashback is created with the whole space in mind, the floors, benchtops, cupboards, and connecting rooms and of course what it is that our clients are wanting to feel in the heart of their home.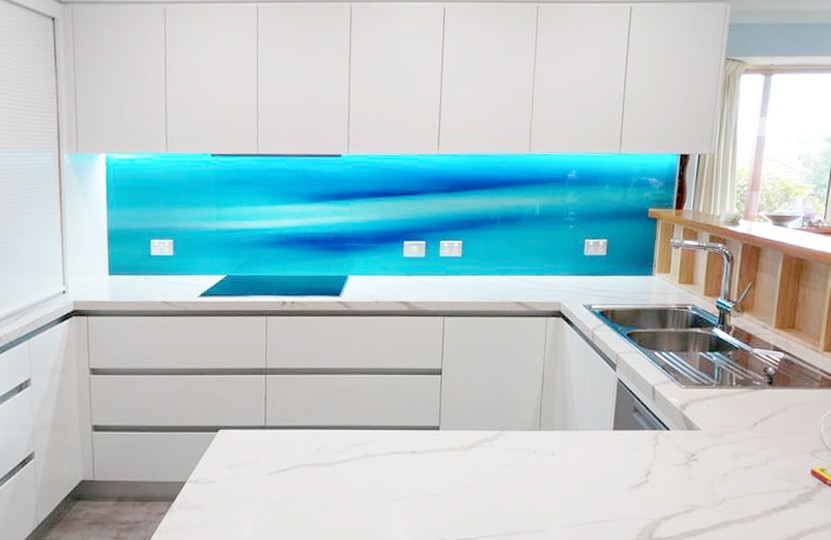 Now that you have seen some ideas you can start to play with colors, sizes, shapes and the style of your splashback, the most important thing to remember is to HAVE FUN!
Get creative this is a journey to enjoy that should leave a positive feeling with you! you can check out more of our splashbacks married with stone bench tops in our gallery.